Betta fish, also known as Siamese fighting fish, are known for their unique colors and combative behavior. These small but charismatic pets have grown in popularity and can become a striking focal point in any home or office. To ensure the health and happiness of your betta fish, it's essential to provide them with the right environment, which starts with choosing the best tank for their needs.
In their natural habitat, betta fish are found in shallow bodies of water with minimal water movement. They thrive in environments with stable temperatures and need ample space to swim around and explore. When selecting a tank for your betta fish, it's essential to prioritize size, water temperature regulation, and water filtration to create a comfortable and stress-free environment for your aquatic friend.
When considering the size of the tank, it's essential to balance the needs of your betta fish with the space you have available. While betta fish can survive in smaller tanks, providing a minimum of 5 gallons for a single betta is widely recommended. This encourages natural swimming behaviors and offers ample space for decorations and plants, which betta fish enjoy hiding in. Furthermore, the material of the tank should be sturdy and clear, such as glass or acrylic, to allow for proper viewing and easy cleaning.
Considering these factors and ensuring a balance between aesthetic appeal and functionality will lead to a thriving and happy betta. In the next section, we'll examine a selection of tanks that cater to the varying needs of both betta fish and their caregivers, making it simple to find the perfect option for your home or office.
Best Betta Fish Tanks
We're excited to share our top picks for the best betta fish tanks. Dive in and discover the perfect home for your beloved betta!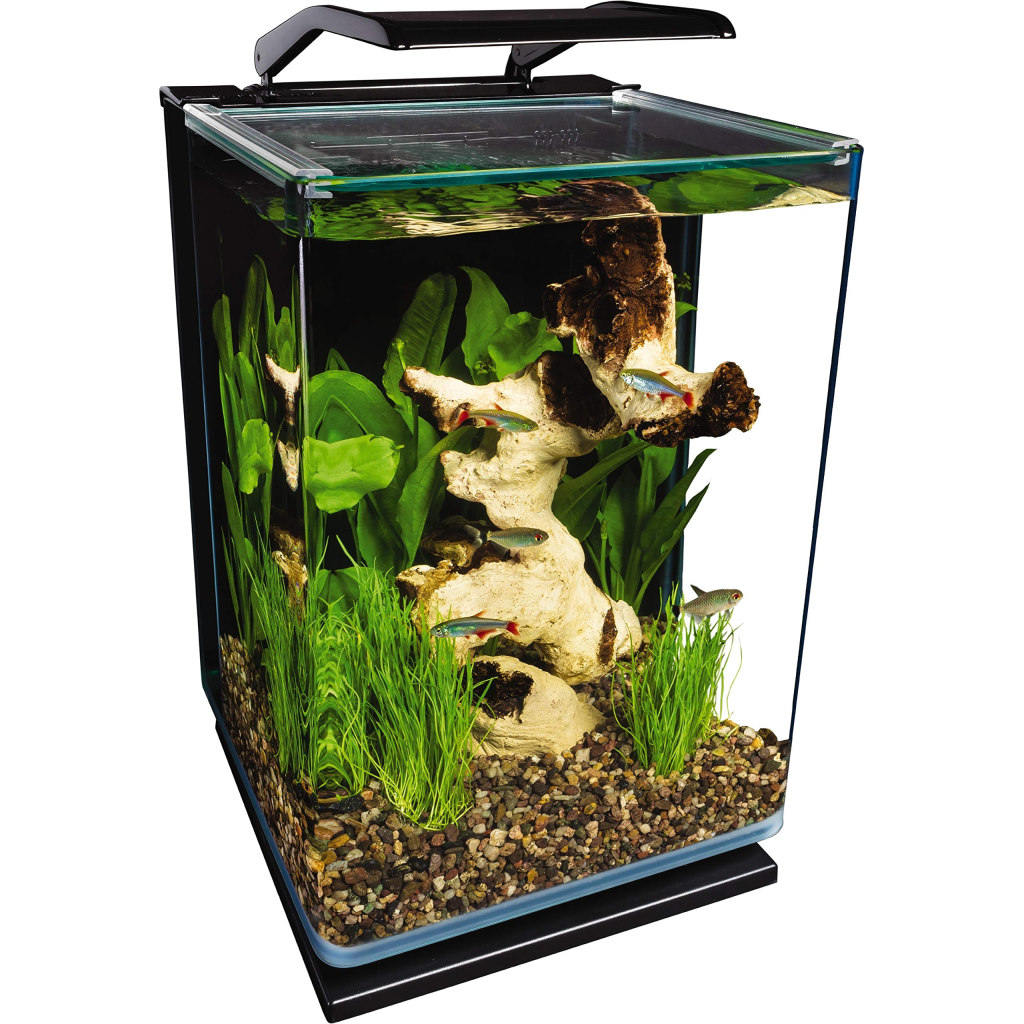 The Marineland 5 Gallon Portrait Kit is a fantastic option for betta fish owners, offering a sleek design and efficient features, making it worth the investment.
Pros
Sleek, space-saving design
Daylight and moonlight LED lighting options
Easy access with hinged LED lighting and sliding glass canopy
Cons
Filter cartridge replacement might be necessary
Limited to 5-gallon capacity
The back compartment might waste some space
The Marineland 5 Gallon Portrait Kit has amazed us with its elegant and modern design. Its rounded corners and clear glass canopy allow viewing from multiple angles, making it a great addition to any space. We also found the size of this aquarium quite ideal for betta fish, as it allows for ample swimming room without taking up too much space.
We were highly impressed by the LED lighting system, with options for bright white daylight and soothing blue moonlight effects. The hinged design makes accessing the tank and adjusting the settings simple, providing a seamless experience. Additionally, the sliding glass canopy allows for uncomplicated feeding and water care dosing.
Although highly efficient, the hidden 3-stage filtration system might require periodic cartridge replacements. But, having said that, the filtration system is out of sight, making the aquarium more visually appealing.
One downside is that the back compartment housing the filtration system and the pump may leave some space unused, which the manufacturers could have designed for additional accessories or aquatic plants in the tank.
Ultimately, we believe the Marineland Portrait Glass LED Aquarium Kit is a brilliant option for betta fish enthusiasts. Its sleek design, efficient lighting options, and easy accessibility make it an enjoyable product for the fish and the owner.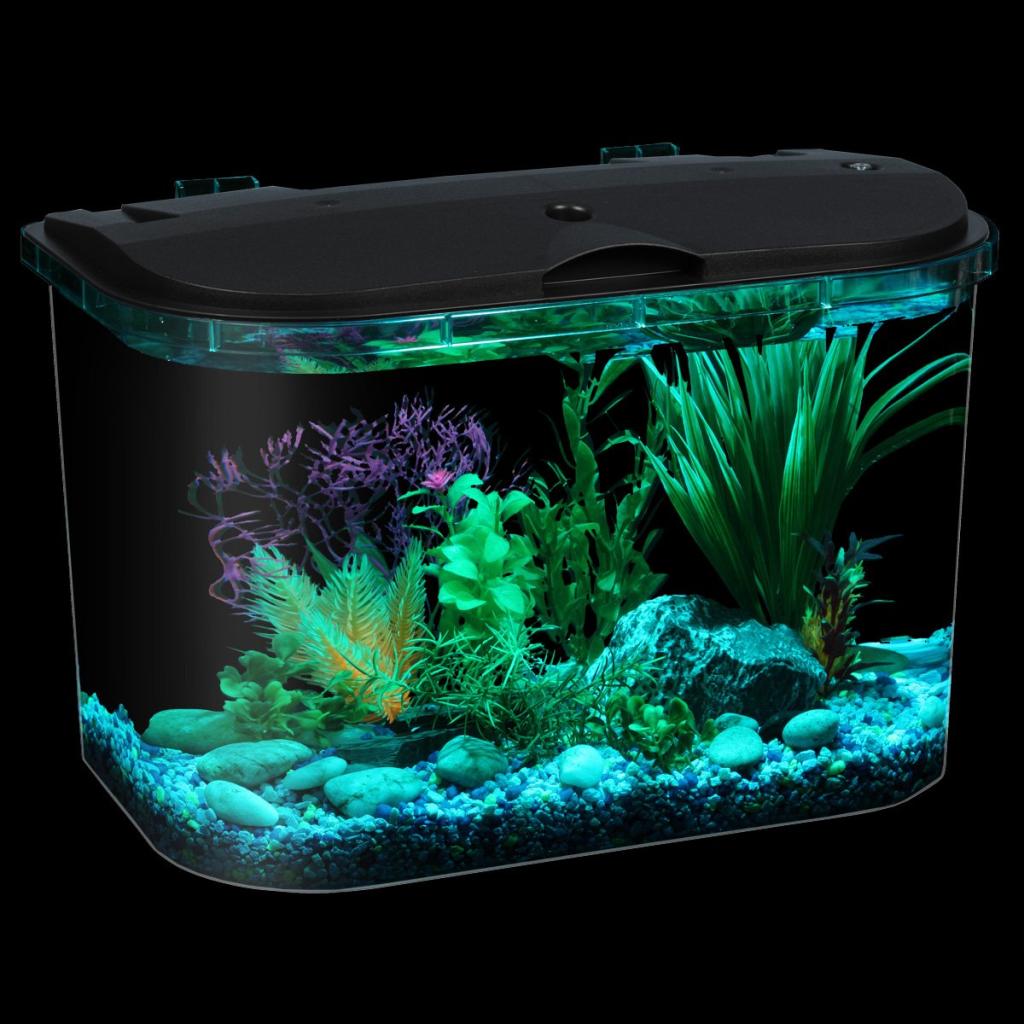 We highly recommend this aquarium kit for those looking for an easy-to-setup and maintain tank for their betta fish.
Pros
Lightweight and crystal-clear design
Energy-efficient LED lighting with seven color options
Powerful internal power filter for clean and purified water
Cons
Made of plastic, not glass
Some users report issues with the LED lights' durability
Filter cartridges need to be replaced using Koller Products S replacement filter cartridges
We recently set up the Koller Products 5-Gallon Aquarium Kit, and we were pleasantly surprised by its trendy design and crystal-clear clarity. The lightweight plastic material made it easy for us to place the tank anywhere in our home. The unique shape also allowed us to view our betta fish from multiple angles.
The built-in energy-efficient LED lighting caught our attention as it came with seven dazzling color selections. Our betta fish looked fantastic under the different color schemes, and we could switch between daylight white, blue, green, amber, aqua, purple, or red. However, some users have reported issues with the LED lights breaking or malfunctioning early on in their experience.
One aspect we appreciated was the powerful internal power filter that effectively removed pollutants from our aquarium's water. The water remained clear and clean, ensuring our betta fish stayed healthy. Do note that the power filter requires Koller Products S replacement filter cartridges, which can be a downside for those seeking more accessible alternatives.
In conclusion, the Koller Products 5-Gallon Aquarium Kit is an excellent choice for new betta fish owners looking for an affordable, low-maintenance tank. Despite a few minor setbacks, this aquarium kit's benefits are worth considering.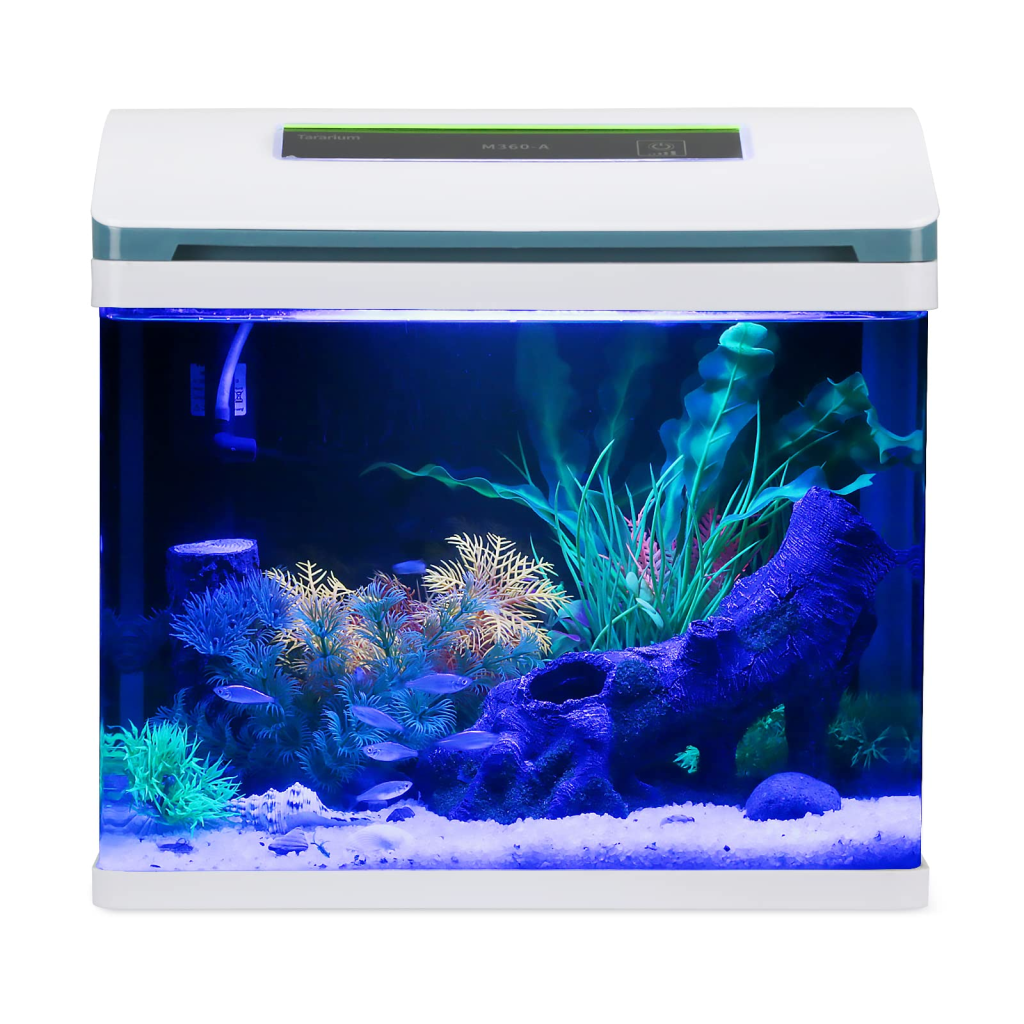 Discover how the TARARIUM Betta Fish Tank will elevate your betta's living space with its glass design and self-cleaning filtration system.
Pros
High-quality glass material, not acrylic
The self-cleaning function reduces water changes
Ideal for room and office decoration
Cons
No tank decoration or sand included
The filter might be noisy for some
White cover and base may not suit all styles
Before using the TARARIUM Betta Fish Tank, we were apprehensive about its performance, but after setting it up, we were impressed with its quality and design. As betta fish enthusiasts, we appreciate how the tank is made from lightweight, durable, and hot-bending glass. Moreover, the self-cleaning feature was extremely helpful in cutting down water changes.
We also found that the 7-color adjustable LED light on the lid provided sufficient illumination and made the tank a decorative piece in our room or office. Although the 5-gallon capacity is perfect for betta fish, it must be noted that the package contains only the aquarium and 3-in-1 filter. You will need to invest in additional decorations or sand, which might be a drawback for some.
With an impressive 8000-hour warranty, TARARIUM stands by its product's quality. After using this tank for a while, we noticed the filter was slightly noisy, which might be an issue in quiet environments. Additionally, the white cover and base may not complement every aesthetic, but it is modern and sleek.
To conclude, the TARARIUM Betta Fish Tank Glass 5 Gallon is an excellent choice for betta fish owners, offering a combination of style, durability, and low maintenance. Overall, it is a good product for upgrading your betta's living space. However, keep in mind that you will need to purchase extra decorations and invest time in finding a solution if the noise from the filter becomes bothersome.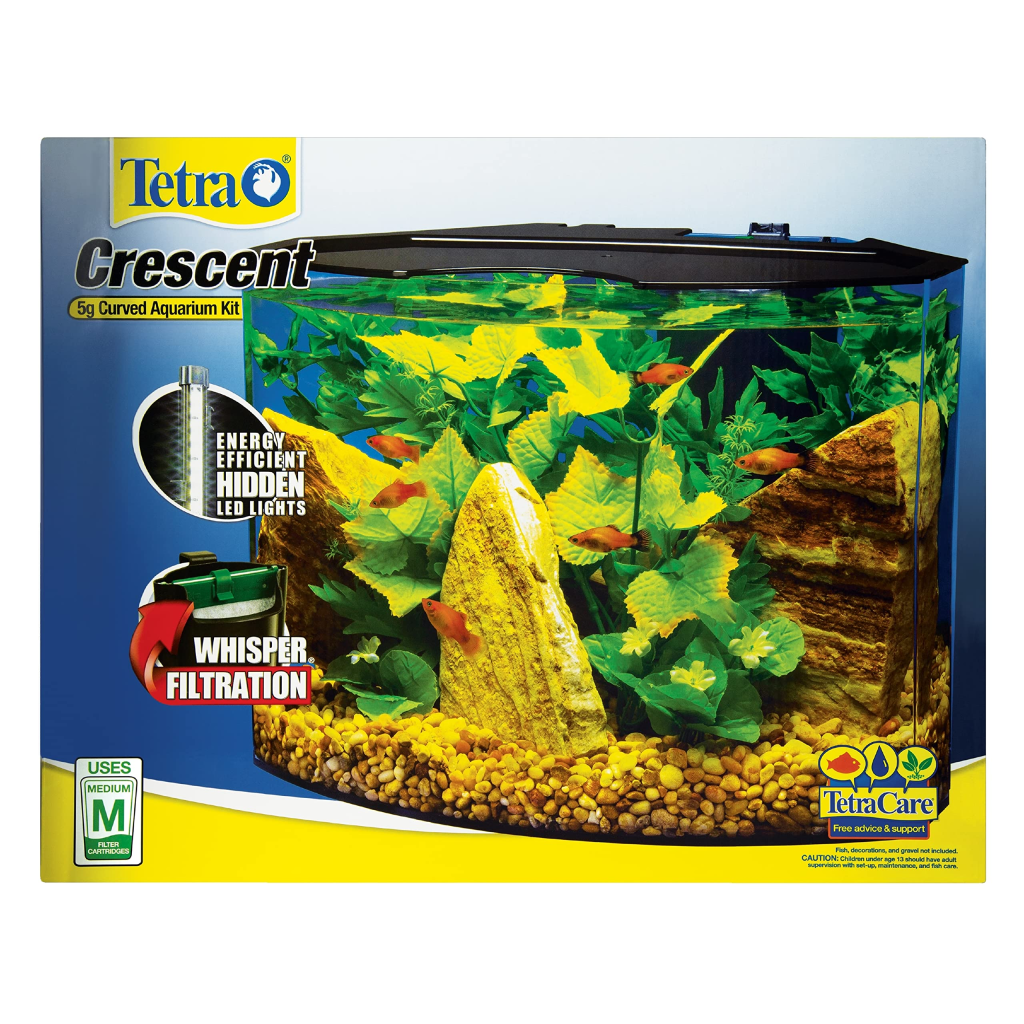 A stylish and functional aquarium, perfect for betta fish owners seeking a reliable option.
Pros
The curved-front design allows unobstructed viewing
Energy-efficient LED lighting included
Tetra Whisper internal filter for a clean environment
Cons
The lid might need some adjustments
LED light may not stay in place
Filter needs regular replacement
The Tetra Crescent Aquarium Kit delivers an elegant addition to any living space. Our experience with this 5-gallon tank has been positive, from its seamless curved-front design that offers an unobstructed view of your betta fish to the bright-white energy-efficient LED lighting hidden discreetly beneath the low-profile black cover.
We appreciate that the kit includes a Tetra Whisper internal power filter, ensuring that the tank stays clean and provides a healthy environment for our betta fish. The filter's dual-sided mesh effectively catches debris and waste, but it's essential to note that you must replace the cartridges regularly. Nonetheless, the adjustable flow of the filter pump ensures it's not too loud or overly powerful.
One aspect to consider is the lid might require some adjustments to fit perfectly or stay properly in place. Additionally, the LED light might need extra assistance staying on the lid as it tends to be prone to falling off. Despite these minor setbacks, the Tetra Crescent Aquarium Kit is overall an excellent choice for betta fish owners looking to upgrade their current setup or start a new one. With its stylish design and reliable filter system, this aquarium won't disappoint you.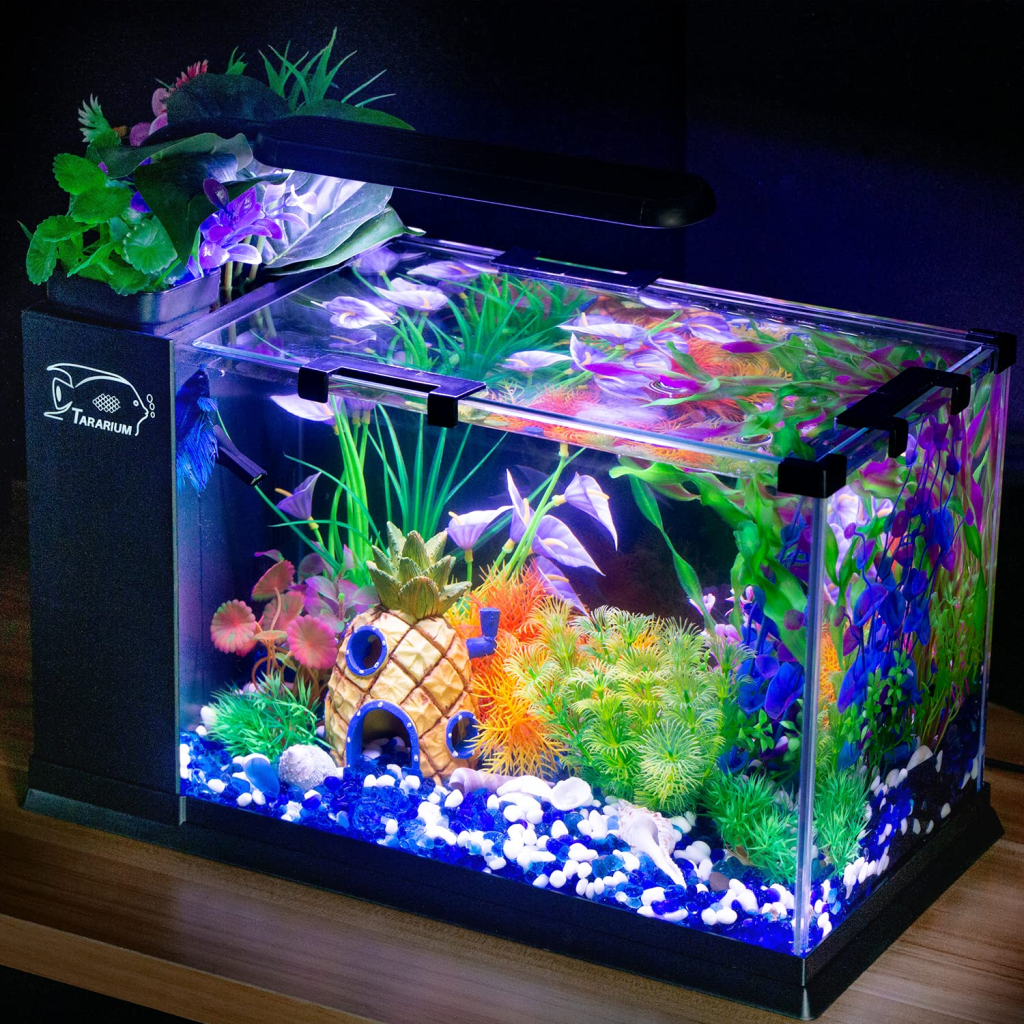 We recommend the TARARIUM 5 Gallon Fish Tank for anyone looking to create a beautiful, self-cleaning environment for their betta fish and other small aquatic creatures.
Pros
Complete filter system
Three color dimmable LED lights
Aquaponic design
Cons
The glass might be fragile
Could be limited space for fish
Not suitable for larger species
I recently tried the TARARIUM 5 Gallon Fish Tank and was delighted with the results. The built-in filter system is impressive, as it creates a water circulation system to keep the tank crystal clear, reducing the need for frequent water changes. This innovative feature allows me to relax and enjoy the beauty of our aquatic pets without worrying about their health.
The three color-dimmable LED lights are another highlight of this tank. Not only do they add a touch of elegance to our space, but they also make the fish and plants truly stand out. The aquaponic design allows us to plant some aquatic plants on top, creating an even more visually stunning environment.
However, I did find a few drawbacks to this tank. The glass material appears to be fragile, so it may break if not handled with care. Additionally, the tank's limited space might not accommodate many fish or larger species if you decide to use it for something besides a single betta. In this case, you might consider using the tank as a fish breeding box or strictly for smaller species like betta, guppy, and shrimp.
Overall, the TARARIUM 5 Gallon Fish Tank is an excellent addition to any room or office space. Not only does it bring life and color to the environment, but it also provides a well-designed and low-maintenance home for your small aquatic pets.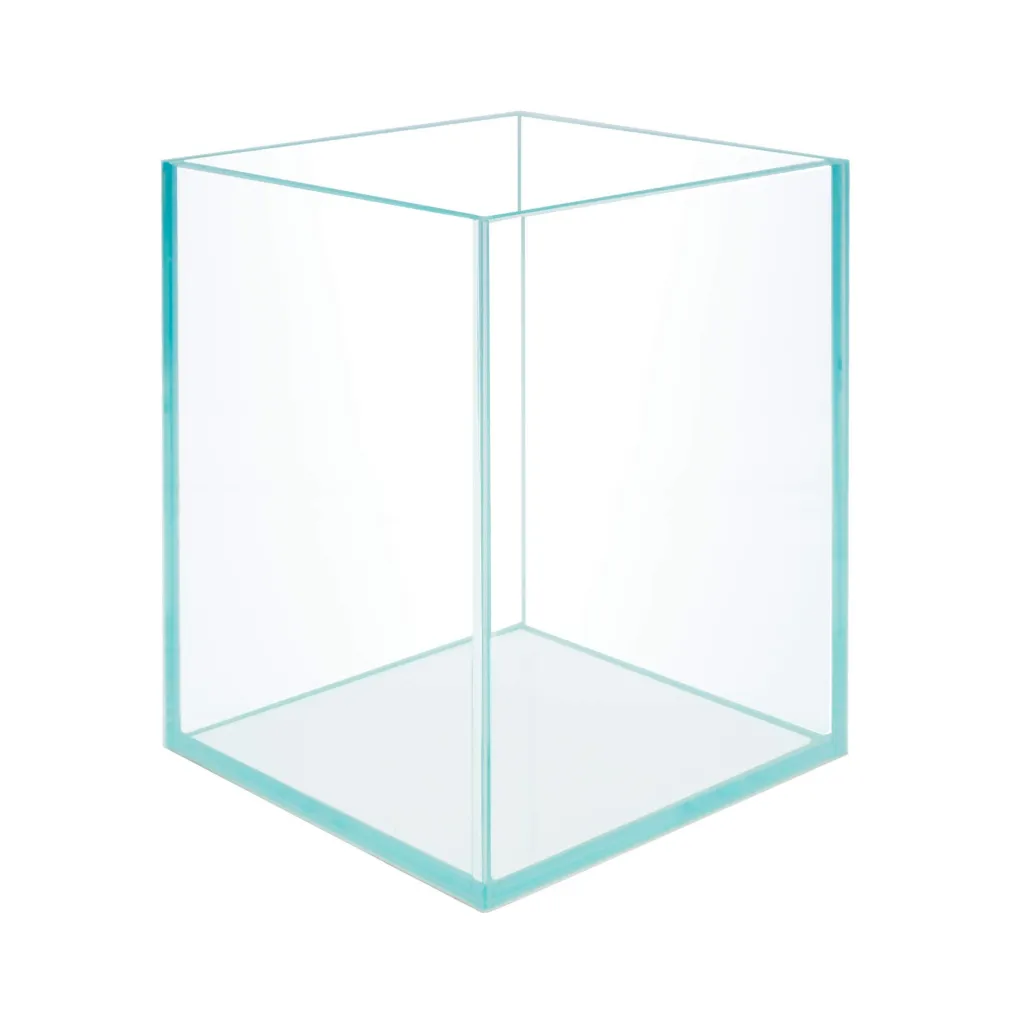 A stylish, extra-clear aquarium that's perfect for betta fish, plants, and shrimps on your desk.
Pros
Low-iron, crystal-clear glass
Rimless design for sleek appearance
Suitable for plants, betta fish, and shrimps
Cons
Leveling mat is thin
No lid included
Pricey for its size
We recently set up the HIRO Aquatics Nano Tall Rimless Aquarium and were impressed by its low-iron glass and rimless design, which provide a sleek and modern appearance. The 5-gallon tank is the perfect size for both betta fish and shrimps and is also suitable for plants and wabi kusa.
The aquarium arrived well-packaged and undamaged, with foam and bubble wrap protecting it during shipping. However, the included white leveling mat felt a bit thin, and we wished it had more cushioning for better support.
We also noticed the aquarium does not have a lid, so we had to order a separate piece of plexiglass to cover it, which seemed like an oversight for a product at this price point.
Despite the drawbacks, we enjoyed the extra-clear visual effect due to the low-iron glass, and our betta fish, Mushu, seems to love swimming around in this tank. Its 5-gallon volume provides ample room for fish, shrimps, and plants to grow comfortably.
In conclusion, the HIRO Aquatics Nano Tall Rimless Aquarium is a stylish and visually appealing option for those looking for a small tank that complements their décor. However, prepare to invest in a better leveling mat and a separate lid if you decide to purchase this tank.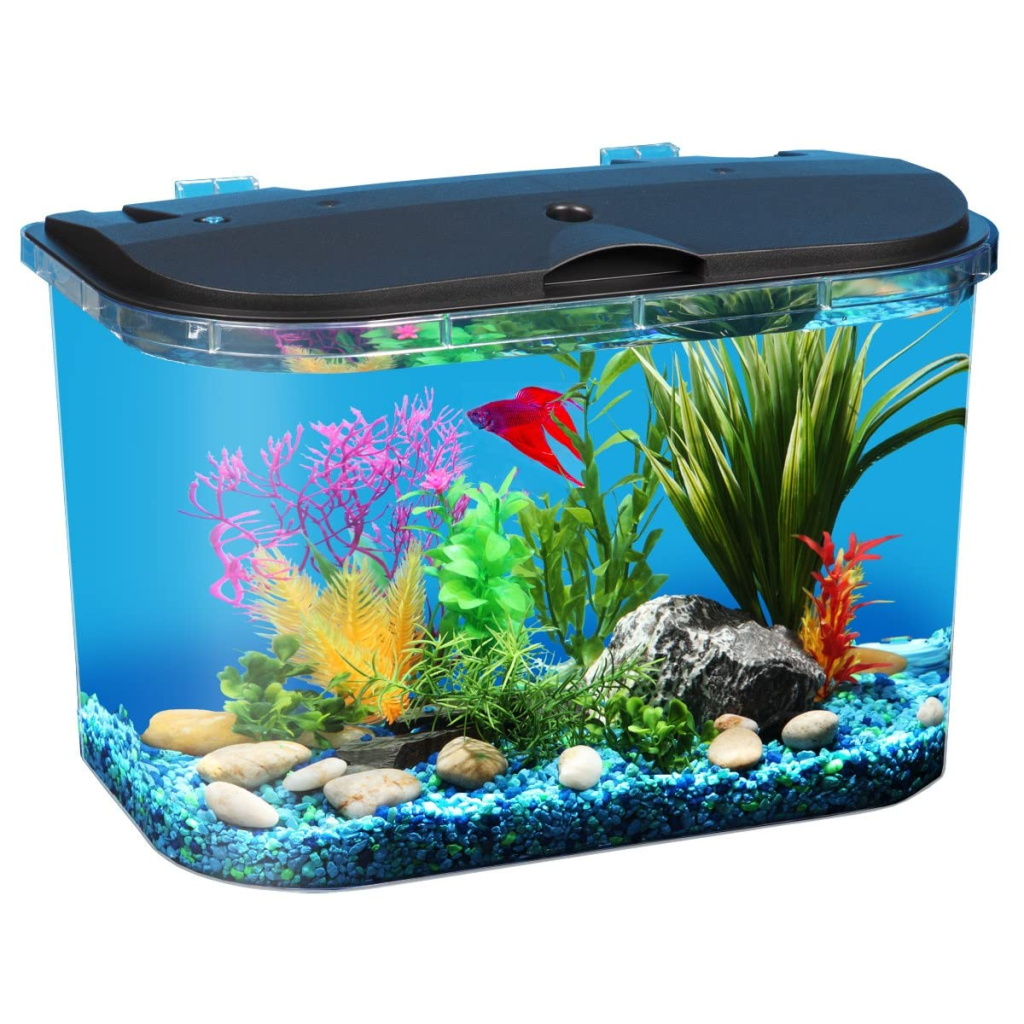 An excellent choice for beginners and betta fish enthusiasts alike, this aquarium starter kit offers impressive features and value for your money.
Pros
Energy-efficient LED lighting with seven color choices
Powerful internal power filter for clean and purified water
Easy setup and maintenance
Cons
Filter suction cups are not always included
No gravel or plants provided
Issues with the light button sinking
We recently set up the Koller Products 5-Gallon Aquarium Starter Kit for our betta fish and appreciated how easy it was to set up and maintain. The energy-efficient LED lights make this an attractive addition to any room, with the option to cycle through 7 different colors, creating a lively yet serene ambiance.
The powerful internal power filter is efficient –at a flow rate of 45 gallons per hour, it keeps our betta's water clean and healthy. We also love that the replacement filter cartridges are easily accessible on Amazon. However, the kit does not include filter suction cups or decorative items such as gravel and plants. Be prepared to purchase these additional items separately to create a lively and happy home for your betta fish.
While the tank is of good quality and visually appealing – with clear, impact-resistant plastic construction – we did experience an issue with the light button sinking, making it challenging to switch colors. Despite this minor inconvenience, our betta fish loves the spacious environment and adjustable light settings.
In conclusion, the Koller Products 5-Gallon Aquarium Starter Kit is an excellent choice for novices and those looking for a reliable and attractive betta fish tank. Keep in mind the additional purchase of suction cups, gravel, and plants, but overall, we highly recommend this aquarium for its convenience, functionality, and aesthetics.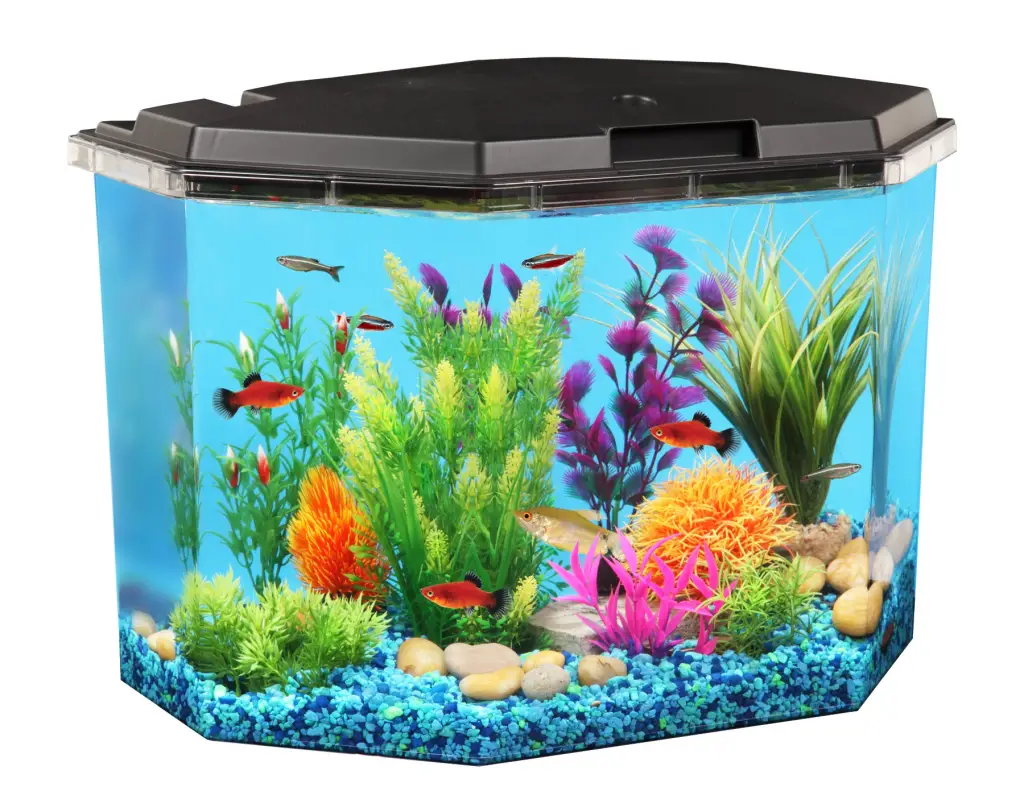 This tank is perfect for betta fish owners seeking a stylish, reliable, easy-to-maintain aquarium.
Pros
Energy-efficient LED lighting with seven color choices
Powerful internal power filter for clean and purified water
Made of impact-resistant plastic, offering durability
Cons
LED lights could be brighter
The filter might require a replacement
The plastic build may attract build-up
We recently set up our Koller Products 6.5-Gallon Aquarium Kit and were instantly impressed by its crystal-clear clarity and stylish design. The tank is made from impact-resistant plastic, giving it the appearance of glass without the fragility of it.
The energy-efficient LED lighting is a standout feature, offering seven dazzling color choices to illuminate your betta fish. While we enjoyed the variety of colors, we did notice the lights could be brighter. However, they still provide ample illumination for our fish.
The powerful internal power filter is another excellent feature, as it cleans and purifies the water at a flow rate of 45 gallons per hour. It effectively removes organic pollutants, ensuring a safe and healthy environment for our betta fish. Some users report that the filter might need replacement, but we haven't faced any issues so far.
The one-piece construction of the tank assures no leakage, but we did encounter some build-up clinging to the walls because of the plastic material. Nevertheless, it isn't a dealbreaker, as the pros certainly outweigh the cons.
In conclusion, the Koller Products 6.5-Gallon Aquarium Kit is an excellent choice for betta fish owners. It's stylish, durable, and easy to maintain, ensuring a beautiful and safe environment for your fish.
Buying Guide
Size and Shape
When looking for the best tank for our betta fish, one of the first considerations should be the size and shape of the tank. Bettas need a minimum of 2.5 to 5 gallons of water to live comfortably. As a rule of thumb, we should aim for at least 5 gallons for a single betta.
Filtration and Heating
Bettas, being tropical fish, need consistent water temperatures between 76 and 82 degrees Fahrenheit. Therefore, we must invest in a reliable heater to maintain the ideal water temperature for our betta's health. A good filtration system is also essential to keep the tank's water clean, maintaining appropriate ammonia and nitrate levels.
Decorations and Plants
Bettas love having hiding spots and resting areas in their tanks. Silk or live plants should be used over plastic ones, as they are less likely to cause harm to our bettas' delicate fins. Our bettas will also appreciate small caves, driftwood, or other decorations to hide in or explore.
Lighting
Bettas need a regular day-night cycle to thrive, so we should provide them with appropriate lighting. We recommend LED lights, which last longer and do not produce as much heat as incandescent bulbs. An automatic timer can also help maintain a consistent day-night cycle for our betta fish.
Tank Lid
A tank lid is essential for keeping our betta fish safe, as they are notorious jumpers. A tight-fitting lid with small openings for air circulation will prevent our betta from leaping out of its tank and becoming injured or stressed.
By considering these essential factors when choosing a tank for our betta fish, we can ensure their health and happiness throughout their life.